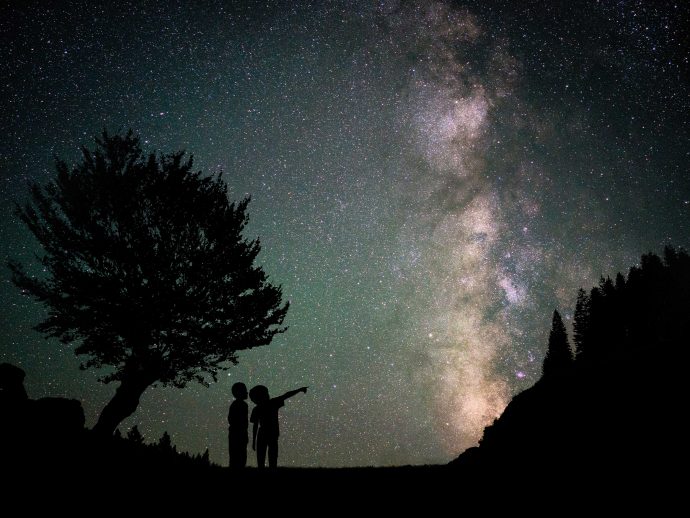 Are screens dominating your family time? These creative ideas (from a mom who's tried them!) will make you excited about screen-free activities. Our tips will also help you make the most out of screen time when it does happen.
At home, at work, in the classroom—the screen has become a ubiquitous part of our lives. We're encouraged to interact with technology everywhere, and while screen time can be positive in moderation, there are meaningful alternatives you can enjoy as a family.
So, where do you start when you are out of practice on screen-free family time? It can be especially difficult if you have children of multiple ages with differing interests, but experience has shown my family that there are always screen-free activities you can share.
Outdoors and screenless
One of my family's most popular outdoor activities is our vegetable and herb garden. You don't need much room, and you can learn so much while having fun as a family. We planned the planting scheme together, being careful to stagger when the veggies would be ready, and built a few small raised beds around the garden. We decorated plastic containers for a mini herb garden on the balcony. And we used our crops to cook meals together.
In addition, we learned about
plant parts, species, and growth
building bird houses and feeders to help the birds through the fall and winter
insects and their roles in the ecosystem
gardening organically
cleaning the bathroom after a day getting filthy in the dirt!
Games with chalk are affordable and popular. Alongside basic drawing on the driveway, we tried these fun variations:
Drawing our own board game: It was a kind of Snakes & Ladders/Candy Land hybrid with lots of mythical creatures. Let your imaginations go wild making up tasks for specific squares. Some of ours were singing, dancing, performing animal impressions, and saying something nice about each person playing.
Giant Pictionary: Make your own "draw this" cards and enjoy guessing—I just hope your family members are better artists than ours!
Hangman: We have a 10-step cat drawing we use instead of the hangman image.
Our family has a number of other outdoor favourites too:
Volunteering together with our local environmental clean-up group: Pulling up invasive species is great for building those arm muscles and meeting new friends.
Prepping the garden for winter and the following spring: We prune bushes, rake leaves, and plant our spring bulbs and vegetables. We also paint plant pots and stones to bring year-round colour to the yard.
Building (and using!) an obstacle course: This is a great physical activity for the whole family. We have also built crazy golf courses, racecourses for toy cars, and obstacle courses for the toys.
Completing an urban treasure hunt: We take turns thinking of items to find and then walk or bike around the neighbourhood, ticking items off our list.
Having backyard cookouts: They always make food taste more delicious, and the kids seem to enjoy prepping food to eat outside so much more than inside meals.
Stargazing with a twist: We make up our own constellations and give them backstories and have even put together little books with drawings and the stories of the constellations.
Indoors can be fun, too
When the weather is against you, or when you just want to stay at home, there is so much you can do with very little planning.
To start the day with a creative activity, set out a range of art and craft materials on the table before you go to bed. Our kids love to wake up to discover an art studio waiting for them, and we can often spend most of the day creating together.
I particularly enjoy asking one of the kiddos to teach me something. There is nothing quite like the look on your little one's face when they realize they have a skill that you don't. They have the opportunity to be the teacher, and now I can rainbow loom like a pro!
World travel is also popular in our home. We keep a decorated jar full of popsicle sticks, and each of those sticks has a country on it. When we decide to "travel," someone picks a stick: that's our destination. We use an atlas to look up the country, make copies of their flag, and cook a meal reflective of the national cuisine. We use limited screen time to discover some national crafts or traditional dress, or even learn a few words of the language. The little ones have homemade "passports" that we stamp when we've visited somewhere.
Finally, an activity that can be challenging but very rewarding while bringing to life a lost art: letter writing. We began by writing letters to each other and to our future selves. Next, we moved on to writing to elderly relatives. Then I contacted local retirement homes, and we began swapping letters with some of the residents who no longer have family around them. This has been a wonderful experience for the whole family, and we now visit, bake for, and regularly send cards and letters to our elderly pen pals.
There truly are endless activities you can enjoy as a family, and they don't have to involve a screen, a plug, or Wi-Fi!
Meaningful movie nights
When you do have screen time, make it a meaningful family affair. We often settle down to watch documentaries as a family and enjoy lively discussions afterward. It's a fantastic way to connect with your teens, explore complex issues, and discover, sometimes with horror, that your child has grown into a person with their own opinions.
Make snacks together, choose a movie together, learn together, and debate together!
Netflix, other streaming services, iTunes, and YouTube all have an excellent range of "family safe" documentaries on offer.
Documentaries I'd particularly recommend:
Wiebo's War—teens and up
Food Matters—tweens and up
The Last Mountain—tweens and up
A Sea Turtle's Story—great for little ones
Plant a Seed & See What Grows
That's the name of a wonderful storybook for children written by Roland Gahler and published by Mind Publishing. Lighthearted and whimsical, this is a rhyming story about Michael, a boy who discovers the treasures that are seeds. It's a lovely allegory that gently teaches us all about our magical connection with nature through the simple act of planting and nurturing a simple seed. You can find a copy to share with your kids online at seewhatgrows.org.