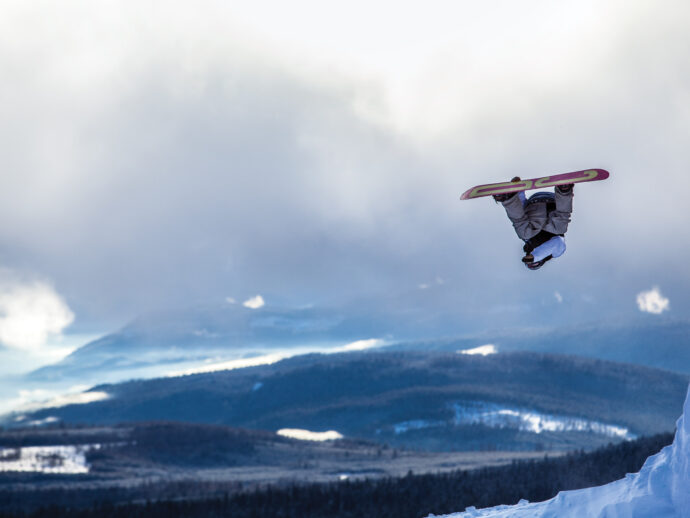 "How many lessons of faith and beauty we should lose, if there were no winter in our year!"—Thomas Wentworth Higginson
The weather outside may be frightful, but for winter athletes, that makes Canada's great outdoors all the more delightful. As our forests and mountains transform into a pristine winter wonderland, these athletes' adrenalin-filled stories reveal just how much we're missing if we stay bundled up indoors.
Snowboard spirituality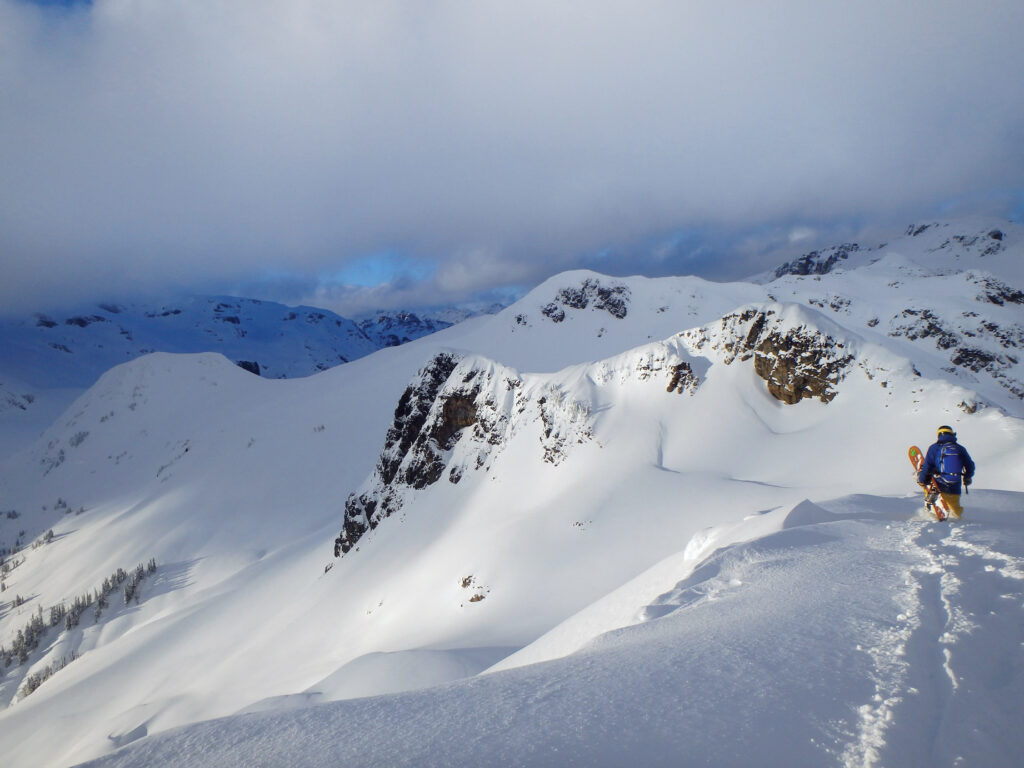 "Snowboarding represents total freedom," says snowboarder David Short in Whistler, BC. "I have the power to go and do as I wish on the slopes, and this keeps me challenged and inspired."
When carving across Whistler's world-famous snow, Short feels more grounded and connected to nature and his surroundings. "I love immersing myself into the dark forests and jagged peaks of mountains," he says. "There's no substitute for exploring sublime mountains on a snowboard. The experience always satisfies my mental, spiritual, and physical cravings."
A professionally sponsored athlete for the past 15 years, Short waxes philosophical from extensive experience. He's hit the slopes of Argentina, Japan, and Switzerland, to name a few, and we can find him featured on the covers of numerous international magazines. Yet, Short finds himself constantly drawn back to Canada, both for our rugged landscape and our cultural embrace of the winter flurry.
"Passions are born from a combination of nature and nurture," says Short. "Winter sports are ingrained in our culture, and Canadian families value teaching these sports to the next generation."
Short's family is no exception, presenting him with his first snowboard at age 10. Some of his earliest memories are on Vancouver's Mount Seymour. In fact, a run on the mountain bears the name of Short's grandfather, who loved to ski even into his eighties.
"The vast Canadian winter wonderland has captivated me for my entire life," says Short, reflecting on his family's long-time relationship with the West Coast peak. "This speaks to the enduring connections people create with mountain pursuits."
Beside the spiritual and emotional benefits of snowboarding, Short attributes his top physical health to the sport, too. "I'll spend the day exploring the mountain and head home exhausted and satisfied," he says. "I love interacting with mountains, from the frightening ascents to reach summits to the harrowing descents down rock-rimmed, powder-filled couloirs. I am always left in a state of euphoria after a long day of snowboarding."
Short notes that we're blessed, as Canadians, with bountiful snow and a vast variety of choices when it comes to mountains and levels of difficulty. "Mountains are incredibly accessible in many parts of Canada," he says. "Wintertime barely lasts for four months, so seize the day and go play in the snow right now, because that snow will have melted away in a blink of an eye."
Don't pause for winter
More than half of all Canadians exercise less in the winter, and only 16 percent of us play a winter sport. But research shows that any irregular, seasonal reductions in our exercise habits lead to weight gain that's harder to lose when we reboot in the New Year.
Carve out calories
Professional snowboarders like Short work harder and faster on the mountains than most of us plan to do. In an hour of moderate downhill snowboarding, the average 150 lb (68 kg) Canadian will burn approximately 400 calories.
The tranquility of extreme skiing
Last year, more than 3.8 million people visited Banff National Park in Alberta—a record for the area. Extreme skier and ski instructor Kim Reichhelm is adding to those numbers, hosting regular women's ski trips in Lake Louise and the Canadian Rockies designed to empower women and boost their confidence.
Reichhelm is a two-time World Extreme Skiing champion and the only person to win the North American, South American, and world titles in a single season. "Extreme skiing is skiing the steepest, most challenging, and oftentimes dangerous terrain on the mountain," explains Reichhelm.
The runs are typically accessible only via hiking or helicopter. "Some of the most extreme descents are mountains that have never been skied before," says Reichhelm, warning that they usually include an element of danger where a single mistake brings severe, and sometimes fatal, consequences.
She's seen the sport change over the years, yet the danger is omnipresent. "As the word 'extreme' became overused in all walks of life, skiers changed the name to 'free skiing,' says Reichhelm. "If a skier tells you they are a free skier or a big mountain skier, then they are what we called 'extreme' in the '80s and '90s before shaving cream and deodorant started using the word."
Reichhelm retired after competing for nearly two decades. She now focuses on her training clinics and women's ski trips and loves how people's lives change when they experience the exhilarating thrill of the mountain. They feel more empowered, more confident. "These feelings carry over into their lives and affect the way they go about their jobs, family, and personal challenges," says Reichhelm. "They're more willing to take chances in their lives."
While we wouldn't think it, extreme skiing creates a sense of tranquility for Reichhelm. "There is something about snow," she ponders. "Everything slows down, gets quiet, and calms the soul. Winter is a wonderland. Whether you snowshoe, hike, skate, make a snowman, or even shovel your walkway, the spiritual experience is often similar."
"You don't have to be good to enjoy it," encourages Reichhelm. "A beginner or an intermediate skier can get just as much pleasure from skiing as an expert. No one's keeping score. At the end of the day with a warm drink by the fire, no one cares how many runs you took. You are appreciated by the glow in your face and the smile that won't stop, because you spent part of the day playing in the snow."
Protect your joints
Skiing and many other snow sports include a lot of twisting and turning, putting a strain on our joints. Supplements such as omega-3 fatty acids, vitamin D, and calcium may help protect and improve joint health. Or, try ginger. The root not only supports joint health, but it also makes us feel warm from the inside out.
Racing for a family legacy
In the 1960s and 1970s, Judy Crawford was one of Canada's most successful skiers. She became the first skier from Ontario to earn a spot on the Canadian Women's Alpine Ski Team, and made it to two Winter Olympics.
Today, her niece is following in her footsteps. "My aunt was on the Canadian team at my age, and I always looked up to her," says alpine skier Candace Crawford in Toronto. She can easily rattle off a list of other family members who enjoy the sport. "You could say I was born to ski!"
And also born to win. Crawford placed first in the alpine combined at the 2016 Canadian National Championships and won the super giant slalom race at this year's Nor-Am Cup. "You're trying to make it from the start gate to the finish line as fast as you can," explains Crawford. "You have to make it around all of the gates, otherwise you're disqualified."
The year hasn't come without its trials, though. "This year, to be honest, was a tough year for me," says Crawford. She fell ill with bronchitis and also sustained various injuries. "It was hard emotionally," she remembers. She was forced to return to her emotional roots, and that was a game changer. "I decided I was just going to ski—not think about my results or how my skiing was," says Crawford. "Just ski because I enjoy skiing. That really changed everything."
Her recent awards show this positive mindset made a difference. "When I cross that finish line, I feel all that adrenalin from barrelling myself down a mountain, and all I want to do is go ski it again," she says. "To me, that is one of the best feelings!"
No matter how many accolades Crawford stacks up, surrounding herself in Canada's wilderness and mountains gives her perspective. "I feel a sense of calm and serenity in the mountains," she says, "and I look around and realize how small I am compared to everything else out there."
Unlike the other countries she's skied in, Crawford loves how big Canada's landscape is, and how much of it there is for us to discover and explore. "People think, 'I have to go halfway around the world to see something cool,' she exclaims, "but sometimes the craziest things are closer than you think. This country is gorgeous when it's covered in snow!"
"Do at least one thing a week that gets your blood pumping," she advises us. "Life is short and there is so much to see. Don't waste it inside."
Sip a recovery shake
Do this within 30 minutes of getting out of the snow. "After a hard workout or difficult day on the slopes, I take a basic protein recovery formula," says Canadian alpine slalom champion Philip Brown. Aim for 1 g of carbohydrates per kilogram of body weight, paired with 10 to 20 g of protein. Not only does it improve muscle recovery, but studies show it also improves exercise endurance.
"The Canadian outdoors are special," says Brown. "Embrace the cold winters; get outside and have some fun with it!"
Cross-training perks
Athletes like Crawford mix in other physical pursuits to help maximize their winter sports performance. "Skiing is very much a power-based sport, but you do need an endurance component," says Crawford, "so weights are really good to build up the strength and power in your legs." Then, downward dog into recovery. "Yoga helps you relax, especially after all the stress we put it through in the workouts," she says. "A perfect time to recover!"
Outdoor versus indoor
Besides the actual exercise, working out in nature lends distinct benefits that an indoor gym simply can't beat.
We burn extra calories
When the temperatures drop, our resting metabolism goes up to keep us warm.
It makes us happier
Almost a quarter of Canadians experience mild or worse seasonal affective disorder. One hour of outdoor winter aerobics has the same mood-boosting benefits as 2 1/2 hours of indoor light treatment.
We improve our metabolism
Cold air temperatures may increase our bodies' levels of healthy brown fat and lower our levels of unhealthy white fat. Brown fat improves our metabolism and balances our insulin sensitivity.
We avoid gym germs
Research shows that fitness centres—enclosed spaces full of panting, sweaty humans touching everything—are hotspots for germs and bacteria. Winter is already cold and flu season. Head outdoors to dodge whatever is lurking on those greasy treadmill handles.