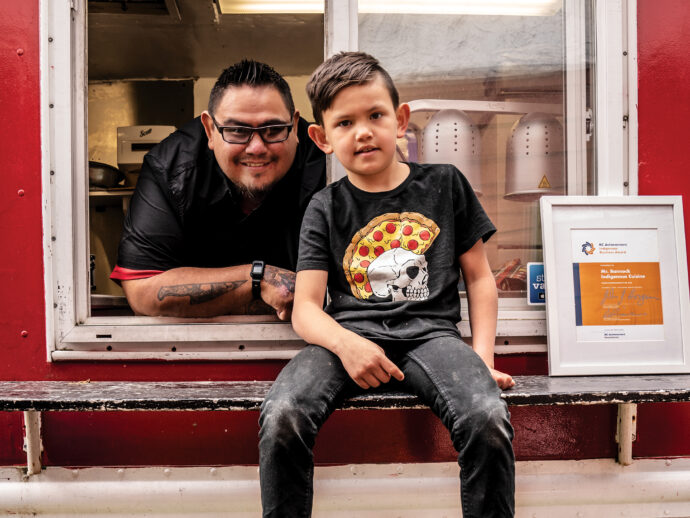 Exploring Indigenous cuisine in Canada
It's impossible to tell this story without first acknowledging the state of the country—and the world for that matter. At the time of writing this, there are more than 14 million confirmed COVID-19 cases worldwide, over 110,000 of which are in Canada.
Expectedly, the virus and the guidelines implemented to slow its spread have had a significant impact on businesses. Small businesses are especially vulnerable since they simply don't have the capital to withstand extended periods of interruption.
Those in the food service industry in particular have been hit hard—something Inez Cook and Paul Natrall, owners of Salmon n' Bannock Bistro and Mr. Bannock Indigenous Cuisine, respectively, can attest to.
Cook says they were "making lemonade" at the bistro after having laid off 80 percent of her staff. In response to government restrictions, they pared down their à la carte menu, offering takeout and
delivery only. With increased foot traffic at their Broadway location now that restrictions are easing, they've been able to start hiring back staff.
Meanwhile, Natrall, home during the shutdown with his partner and six children, is now working hard with a limited menu and focusing on pick-up and delivery service. "It's definitely hard times right now," but he remains positive: "Super excited. This is my passion and what I do. I'm hoping everything lightens up and I can just rebound and go hard."
A history of erasure
Greater Vancouver is a smorgasbord of culinary delights, boasting more than 5,000 restaurants ranging from fast food to fine dining and everything in between.
In a city so rich in culture and diversity, you wouldn't think it would be so difficult to sample Indigenous food. After all, Vancouver is home to three local First Nations:
xʷməθkʷəy̓əm (Musqueam)
Skwxwú7mesh (Squamish)
Səl̓ílwətaʔ/Selilwitulh (Tsleil-Waututh)
And yet Salmon n' Bannock is the only brick-and-mortar Indigenous restaurant; Mr. Bannock is the only food truck. Together these two establishments make up the entire Indigenous food scene in Vancouver.
If you're wondering how this is possible, you're not paying close enough attention. According to the Truth and Reconciliation Commission of Canada, for over a century Canada and its Aboriginal policy sought to, "through a process of assimilation, cause Aboriginal peoples to cease to exist as distinct legal, social, cultural, religious, and racial entities …"
The assimilation of Indigenous peoples in Canada occurred through various initiatives such as the Indian Act, which was directly responsible for the residential school system. Over a period of 120 years, an estimated 150,000 Indigenous children endured irreversible harm—sometimes even death. Also, in the 1960s, during what's now referred to as the "Sixties Scoop," thousands of children were taken from their families and placed in non-Indigenous homes, their cultural identities erased.
Cook was just a year old when she was taken from her mother and her Nuxalk Nation family during the Sixties Scoop. She said she was fortunate to be placed with a family who loved her—people who "really honoured the land and honoured the seasons of the food … everything came fresh from the garden."
So, when Cook began reconnecting with her cultural identity as an adult, "a lot of it wasn't so much of a stretch … I actually understand a lot of these things and why you eat for the season and why you honour the food you get during each season."
Still, Cook's story is just one of thousands which, when woven together, tell a story of cultural genocide. The fact that a city such as Vancouver, lauded for its multiculturalism, has only one Indigenous restaurant and one Indigenous food truck may be testament to the continued cultural suppression Indigenous peoples face.
A champion of Indigenous cuisine
Even when Cook says she didn't always feel Indigenous, she did always know she would one day open a restaurant. She would call it Chez Moi, and it would be in a house with a doorbell. You wouldn't know what's on the menu until you sat down—just like you wouldn't ask, "What are you serving?" to someone who just invited you for dinner.
It wasn't until Cook saw a sign on the highway to wine country in Kelowna that said, "Don't panic, we have bannock" that "all the bells and whistles went off in [her] head." She made the decision then to open a restaurant that would celebrate her ancestors and culture. Her vision had always been to take her customers on a culinary journey; it just wasn't until that moment that she realized the journey they would follow her on would be her own.
Today, Salmon n' Bannock showcases the best flavours of the land and ocean, but for a modern palate. All their game meats are free range and organic, and all their seafood is wild—most caught off the coast of British Columbia.
One of the bistro's most popular dishes is a sage-smoked salmon—the sage is "the same sage you smudge with," according to Cook, which "gives it a really beautiful, earthy flavour." She also recommends the bison pot roast, which has been slow-braised for 24 hours. When the dining room is open, daily features—including the albacore tuna rice bowl featuring a cedar jelly marinade and Saskatchewan-grown Ojibwe wild rice—showcase the kitchen's culinary flair and mastery.
When asked what she wants people to know about Indigenous food, her answer is simple: "It's constantly growing, and it's delicious—and it's not just one thing."
The future of Indigenous cuisine
Indeed, Indigenous food is not just one thing—just ask Skwxwú7mesh (Squamish) Nation's Paul Natrall, owner of Mr. Bannock Indigenous Cuisine: "People from Líl̓wat Nation were known for pit cooking, and if you go up a little bit more, people were known for wind drying … Every region has its own unique flavours and procedures."
Natrall, who graduated from Vancouver Community College's year-long "Aboriginal specialty" culinary arts program, has been drawn to the kitchen since he was a young boy. While his grandmothers prepared meals in the kitchen, he'd be tasked with collecting blackberries, apples, and pears, which grew wild on their reserve.
The matriarchs in his family passed a lot of their culinary knowledge down to him, as well as traditional healing methods: "We would use frog leaves [aka plantain] for cuts and scrapes—any kind of flesh wounds that you'd have. She'd say to just grab some frog leaves and bandage it up around wherever it was hurt."
He didn't necessarily know it at the time, but Natrall admits he was lucky to have his family around, including his uncle who would go out hunting and bring back fresh deer, elk, and moose. Now, wild game is something he loves to experiment with. "I was bugging some of my colleagues: I said, I'm going to do some Kentucky
fried quail."
With so many people influencing Natrall over the years, both familial and professional, it's not surprising that he is seeking opportunities to pass his knowledge on to the next generation. He is director of the Indigenous Culinary of Associated Nations (ICAN) whose mission is to "connect, influence, and share community through genuine Indigenous
food experiences."
Recently, he was in Whitehorse, Yukon, with ICAN. They had six students shadowing them, and Natrall was the students' sous-chef, helping them to execute their menu and stay organized. Together they prepared seared Arctic char served with maple glass candy seasoned with chili flakes and sage—a little French-Indigenous fusion, he called it.
"The way I help spread the knowledge is just through hands-on," says Natrall, who in September 2019 won the BC Indigenous Business Awards Young Entrepreneur of the Year. Natrall said this was a real honour to be recognized. "I didn't expect that at all—I was just working hard and working toward my dream of being my own boss and showcasing Indigenous
food culture."
A light at the end of the tunnel
As restrictions around COVID-19 ease up, Natrall is "super busy" providing limited pick-up or delivery of some of his signature dishes, including new-to-his-menu DBK—cherry wood-smoked duck breast, Chinese 5-spice bacon, kimchee, and house Korean BBQ sauce between two pieces of bannock. He's also working on developing a franchise model in addition to planning upcoming programming with ICAN.
Salmon n' Bannock, currently focused on their "Dine out" business while working on their imminent reopening,  recently surpassed its 10-year anniversary, and Cook says she's "looking forward to inspiring [her] team again, with COVID-19 restrictions eased." To put this milestone in perspective, the bistro's manager, Darnell Stager, says it best: "For any restaurant, it's a milestone, but for an Indigenous one that's female owned, it's absolutely spectacular."
Sage-Smoked Salmon Burgers (Courtesy of Salmon n'Bannock)
Mr. Bannock's Parsnip Salad (Courtesy of Mr. Bannock)
The suppression of storytelling
Darnell Stager, manager of Salmon n' Bannock, explains that many of the nations in what we now call Canada didn't have written languages, so knowledge was passed down orally, often while feasting. "Eating in groups and cooking in groups has always promoted an oral tradition," he says.
Tragically, this tradition was all but destroyed through initiatives such as the residential school systems, which prevented Indigenous children from speaking their native language. Today, Indigenous peoples worldwide are championing language revitalization efforts to keep these languages from being lost forever.
Fighting for food sovereignty
According to the Indigenous food sovereignty movement, the continued oppression of Indigenous peoples is written into Canada's laws and regulations, including those around food and food sourcing. Unfortunately, many traditional Indigenous ingredients are not available via commercial markets and so are not permitted to be served in restaurants.
The Indigenous food sovereignty movement seeks to eliminate these restrictions and restore each nation's inherent right to make its own decisions about food. Doing so would allow these ingredients (such as eulachon, a smelt-like fish that is part of the traditional Nuxalk diet) to be served in restaurants, therefore shedding light on traditional Indigenous cuisine and also providing employment to Indigenous food producers.
Amy Wood is a writer, environmentalist, mom, foodie, and co-founder of Shine Bootcamp. Find her on Instagram @amy.would.
Bailey Pitt is a Metis-Cree writer, artist, and activist who enjoys educating people about Indigenous history in Canada.