According to a study by Pew Research Center, 57% of American fathers believe fatherhood is central to their identity.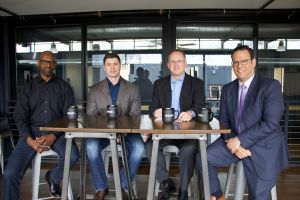 Fatherhood poses unique challenges for men. From raising children to keeping themselves healthy, parenting is unlike any other experience.
Andy Hetzel, VP of Corporate Communications at Blue Cross Blue Shield of Michigan sat down with other fathers to discuss the joys and struggles of parenting and how they work to keep their families healthy.
He was joined by Ryan Ermanni, morning news reporter at WJBK-TV Fox 2, Vince McKinnon, wellness manager at Blue Cross Blue Shield of Michigan and Herman Moore, Detroit Lions legend and founder of the Herman Moore Tackle Life Foundation.
You may also like:
Table Talks: A Conversation on Caregiving
Table Talks: Balance in Motherhood
Surprising Men's Health Statistics to Remember All Year Long
Photo Credit: A Healthier Michigan