The A Healthier Michigan team recently tried out Row-Ga, a fusion workout that combines an intense rowing session with a mellow, centering yoga experience.
Rowing gets your heart pumping, engages your entire body with fast, intense movements and is a great way to burn calories and break a sweat. Yoga also engages every muscle in your body, but does so through gentle stretching and postures, deep breaths and time for meditation.
The unlikely pairing left our team feeling like they'd not only accomplished a physical feat, but had taken some time to center and re-balance their minds.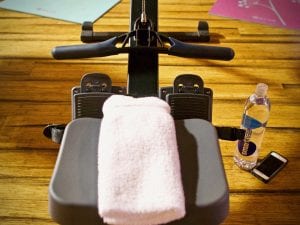 Co-facilitators Letty Azar and Kelsey Grownowski led their respective rowing and yoga components of the class at Snap Fitness in Harrison Township. They'd both been intrigued by the concept and offer it as a workshop with 30 minutes of rowing time and 45 minutes of yoga.
"To me it was just this beautiful combo. They really complement each other," Azar said.
Short, concentrated time frames help people maximize their gym time while getting the benefits of both a high-intensity cardio workout with the restorative benefits of yoga. Azar explained that the rowing portion of the class provides the adrenaline rush many gym-goers are looking for, while yoga poses provide a smooth dose of mood-regulating and relaxing serotonin.
Grownowski said Row-Ga is appropriate for people at all skill levels as both sections of the class can be amped up or toned down to create more or less of a challenge. The classes have been well-received and have introduced Snap Fitness members to new workout experiences they might not have otherwise sought out. Whether they come for the yoga or rowing, Grownowski said all participants have one thing in common.
"Afterwards I would say people are feeling happy," she said.
If you enjoyed this post, you might also like:
Spell it Out: Try this ABC Workout
Put Your Balance to the Test: Step Up to the Slackline
Goat Yoga: The Fitness Trend You Have to Try