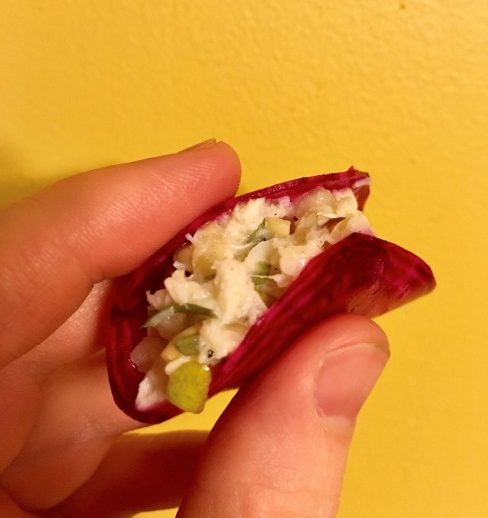 Just one bite is all you need to realize this unassuming hors d'oeuvre is so much more than the sum of its parts. It's sure to become a go-to in your appetizer repertoire since it's simple and also quick to put together. Because there are few ingredients, it's important to source the best quality possible to ensure the tastiest results.
These "tacos" can become an effortless vegan appetizer by filling the beet slices with a teaspoon or two of your favourite store-bought vegan nut paté instead of the crab filling.
Ingredients
6 oz (170 g) cooked lump crabmeat, drained and picked over for shells
1/2 Bartlett pear, finely diced
1/4 cup (60 mL) toasted hazelnuts, finely chopped
1 Tbsp (15 mL) finely chopped shallot
4 tsp (20 mL) mayonnaise or vegan mayonnaise
1 tsp (5 mL) Dijon mustard
2 tsp (10 mL) fresh lemon juice
1 tsp (5 mL) finely chopped tarragon leaves, or 1/2 tsp (2 mL) dried tarragon
1/2 tsp (2 mL) kosher salt
Large pinch of freshly ground black pepper
1 medium peeled red or yellow beet
Directions
In medium bowl, toss together crabmeat, pear, hazelnuts, and shallot.
In small bowl, whisk together mayonnaise, mustard, lemon juice, tarragon, salt, and pepper. Drizzle dressing over crab mixture and toss well to combine.
Using mandoline, slice beet paper thin. Rinse beet slices under cold running water for 1 minute, then pat slices dry with clean kitchen towel. Working with one beet slice at a time, scoop heaping 1 tsp (5 mL) crab mixture onto beet and fold in half. Place on serving plate and serve immediately.
Each serving contains: 54 calories; 4 g protein; 3 g total fat (0 g sat. fat, 0 g trans fat); 3 g total carbohydrates (1 g sugars, 1 g fibre); 174 mg sodium