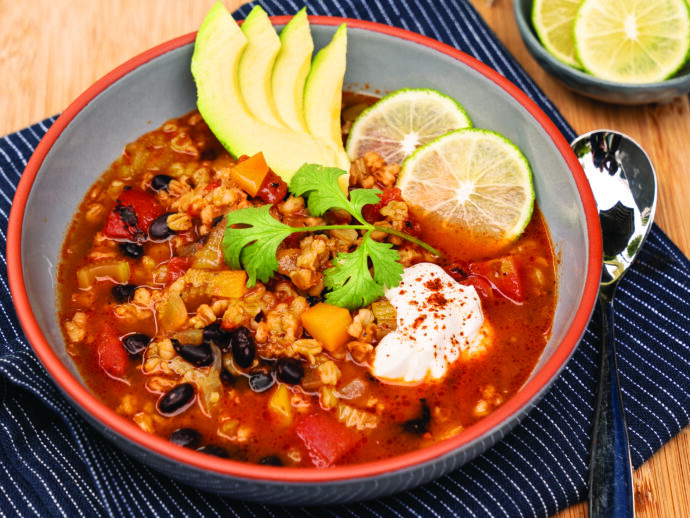 Kitchari is an Ayurvedic staple and is extremely good for digestion. Split peas, moong dal, lentils … kitchari is made from many types of pulses. Our version includes split peas and rice soaked overnight to make it even more digestible. Coupled with spices, ginger, and greens, it's a cleansing life-giving meal in a bowl—particularly in this season.
Kitchari can also be served as a base for roasted vegetables, providing additional nutritional benefits. Diced roasted butternut squash, cauliflower florets, broccoli, and dark leafy greens such as spinach or kale all offer added nutrients. But stick to adding only one or two additional veggies to keep it simpler on the digestive system to process.
The longer you soak split peas, the easier they are to digest.
Ingredients
1 cup (250 mL) dried yellow or green split peas or moong dal
1/2 cup (125 mL) long grain brown basmati rice
2 Tbsp (30 mL) coconut oil or ghee
2 tsp (10 mL) black or yellow mustard seeds
1 tsp (5 mL) cumin seeds
1 medium-sized sweet onion, peeled and diced
1 Tbsp (15 mL) peeled and grated fresh gingerroot
1 tsp (5 mL) turmeric
1 tsp (5 mL) ground coriander
1/2 tsp (2 mL) kosher salt
1 cinnamon stick
5 cups (1.25 L) water
Fresh cilantro, plain yogurt, and lime wedges for garnish (optional)
Directions
In large bowl, rinse split peas and rice until water runs clear. Place in bowl and cover with 4 cups (1 L) water. Refrigerate for 12 to 24 hours. Drain thoroughly and rinse well. Set aside.
In large, heavy saucepan, heat oil or ghee until shimmering. Add mustard seeds and cumin, and cook for 30 seconds, until fragrant and mustard seeds begin to pop. Stir in onion and gingerroot, and sauté just until soft, about 2 minutes. Stir in remaining seasonings, cinnamon stick, split peas, and rice until evenly coated with spices. Stir in water and bring to a gentle boil. Cover with lid and reduce heat to medium-low. Simmer for 40 to 45 minutes, or until split peas are soft and tender.
Serve with your choice of garnish
Each serving contains: 226 calories; 10 g protein; 6 g total fat (4 g sat. fat, 0 g trans fat); 35 g total carbohydrates (4 g sugars, 10 g fibre); 202 mg sodium