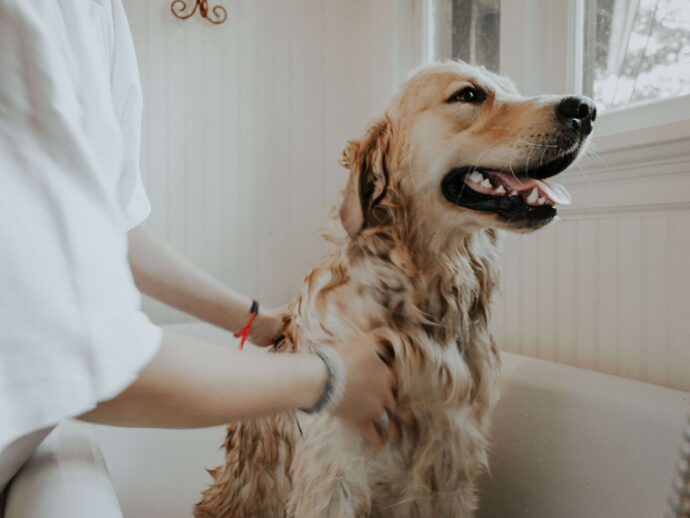 Eco-Friendly Tips for our furry friends
As pet owners, we have a responsibility to ensure that our pets' needs are met. We can also help make eco-friendly choices, from our pets' foods to the toys they play with. It's easier than you might think!
Pet ownership by the numbers
In 2018, 41 percent of Canadian households had at least one dog (to a total of 8.2 million) and 38 percent of households had one cat or more (8.3 million total). Also in 2018, Canadians spent almost $9 billion on pet merchandise.
Start them right
Adopting from a shelter is without a doubt the sustainable option, though not suitable for everyone.
If starting anew, locate a reputable local breeder that you can visit (ask for their pet rehoming policy). Pet store and internet buys are risky, as animals can originate from unverified breeders.
Consider spaying or neutering your pet. Shelter stats and your conscience provide a good argument for why that is sustainable.
Did you know?
In 2017, Canadian shelters took in more than 87,000 cats and 33,000 dogs.
A dog and its offspring can produce up to 67,000 puppies in six years. A cat and its offspring can add up to 370,000 kittens in seven years.
Sleep
If you want sustainable and affordable (and feel crafty) you can make cute and sturdy pet beds using everything from old pillows, comforters, and wool sweaters to boxes, baskets, old furniture, and even luggage. An internet search for "homemade pet bed" renders a myriad of ideas (plus tutorials!).
If buying new, choose beds with washable natural fibre covers, avoiding hazardous chemicals such as flame retardants, which foam is often treated with. Flame retardants are thought to affect the endocrine, reproductive, and immune systems, and increase the risk of cancer.
Avoid beds made from polyester or other synthetic fabrics, which are a major source of microplastic fibres found in increasingly large numbers in the environment. Beds made from recycled shredded plastic can be a greener option.
Safe accessories
Ropes and chewing toys made from natural fibres such as cotton or twine yarn, or wool, are greenest (and compostable!). If you opt for plastic toys, ensure they are free of bisphenol A (BPA) and phthalates (they are endocrine disruptors). Visit thrift stores—some raise money for animal shelters—for used plush toys (without beads), blankets, food and water bowls, and other accessories.
Food
Local and sustainable is best for you, and for your pet. Buy sustainably produced pet food that uses clean ingredients, or if you are feeding cooked or raw food, check nearby farms and local stores.
"Raw food, if you are thinking of switching, has the least amount of processing," says Corbie Black, owner of Bone & Biscuit Pet Store in Kamloops, BC. "The products we use for kibble, raw, dehydrated, or canned food have to come from animals humanely raised or harvested sustainably, and used entirely," he adds. That includes treats, too; the closer to the natural state, the better.
The other end
Cats can be picky about litter. Artificially fragranced is repulsive to many (and is thought to be unhealthy, too) and so are certain textures. Avoid clay-based or crystal litter (which have a significant environmental footprint) and opt for nontoxic, renewable, and biodegradable ones made from walnut shells, recycled paper, or grass.
As for Fido's waste management: biodegradable bags are a good start if properly disposed of. Look up the rules and regulations for your municipality to learn the best choice for you. You can also compost waste (in a separate composter) and use the end product for your ornamental garden only, or you can bury it in the ground or employ worms. Caution: dog poop can carry parasites.
Flush waste down the toilet (check with your municipality first), but do not flush bags, even biodegradable and "flushable" ones.
Salty concerns
Regular de-icing salt is toxic when ingested by pets and creates a burning sensation on their paws. Use products labelled as safer for pets and urge your neighbours (and municipality) to do the same. De-icing salt enters waterways, affecting small aquatic critters and plants, too.
Rinse your pet's paws after being outside and apply a pet-safe protective nourishing balm. Apply it before walks too. Some pet owners even purchase boots to protect paws on walks.
Roaming green
Free-roaming cats have been infamously classified as a major killer of songbirds and small mammals in Canada. Green cats are indoor cats. Dogs can also wreak unwanted havoc outdoors. Stay on trails in sensitive habitats and leash your dog. It is safer for everyone.
Daniela Ginta, MSc, lives in Kamloops with her family, which includes a dog—a green one. You can find her at thinkofclouds.com.
This article was originally published in the April 2020 issue of alive Canada, under the title "Make Your Pet's World as Green as Can Be."