If the song titles they've performed throughout appearances on America's Got Talent are any indication, the Detroit Youth Choir could be poised to win it all.
That would make the Motor City phenoms the first choir to take the grand prize of the televised talent competition when they compete during the final round on Tuesday, Sept. 17.
There was "Can't Hold Us", which prompted Flint native Terry Crews to hit the golden buzzer, automatically sending the choir through to subsequent live shows. "The Champion" propelled the group of Detroit youth to the semifinals and their performance of "High Hopes" last week landed them a coveted spot in the finals.
With energetic performances that mix choreographed dancing and soaring vocals, judges have been moved to tears, Detroit Mayor Mike Duggan is encouraging an entire city to vote for their hometown kids on social media and the choir is slated to open the 93rd annual America's Thanksgiving Day Parade.
So, what's it like to be one of the young choir members, thrust into the national spotlight?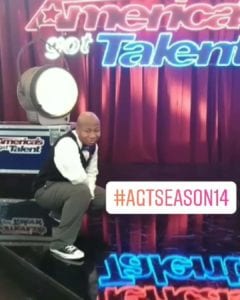 Sixteen-year-old DeAndre "Dre" Elliott has been there from the start. The junior at Washtenaw International High School started singing with the DYC in 4th grade and said it's surreal to think of the millions of eyes watching him and his choirmates perform on the AGT stage on their screens, phones and tablets.
Performing in front of Queen Latifah was a personal highlight for Elliott, while facing the judges after giving it their all on the stage has proven to be emotionally taxing.
"It's very nerve-wracking in a sense because every act does feel like they did their best," he said. "It's obviously a roller coaster with each judge and you not knowing what they're going to say and how they're going to respond to certain things you did on stage."
When he's performing, Elliott said he flows between auto-pilot and an acute awareness of his role in the choir's success. In formation and working together, individual members meld into a greater and grander whole, whipping the audience into a frenzy. Elliott credits choir director Anthony White for having a grand vision and putting a plan in motion to realize this real-life fairytale. Now that they're this close to clinching the whole thing, Elliott said members of the choir see and believe in White's dream – they can feel it and they're all in it together.
"We see what he (White) sees in us," he said. "In my opinion, I feel like we're a family."
For his parents, seeing Elliott performing with passion with the DYC isn't surprising. Mom LaToya Elliott has served as a choir director and praise leader at different churches, so her son grew up surrounded by music. Dad DeAndre Elliott, who works as an IT manager at Blue Cross Blue Shield of Michigan, jokes that his son was listening to music in the womb. He also took to the drums at a young age and when he was about 4 or 5, Elliott created his own song and performed it for his parents. His dad said it's a treasured memory he captured on video and highlights the way his son has always expressed himself through music.
When he finishes high school, Elliott plans to pursue a college education and wants to own his own business, preferably tied to music in some way. He thinks the success of DYC can inspire other young people to pursue their own dreams – whether that's robotics, writing or other pursuits – and that with the right leadership and focus, putting time, energy and hard work into a goal can really pay off.
"I think it does show what young people are capable of," he said. "I think young people do get dismissed because we are young and so we show them what we can really do."
Expect a show-stopping performance by the Detroit Youth Choir, Elliott included, on Tuesday, Sept. 17 at 8 p.m. ET on your local NBC station. Tune in for the show and vote to help drive this hometown favorite to the top.
If you enjoyed this post, you might also like:
Camp Casey: Providing Help, Horses and Happiness
Spotlight on Detroit Food Academy
Why Safe Routes to Schools Matter
Photos courtesy of DeAndre Elliott